Fun Guerrilla.
Sea Glass – Diamonds Shaped by the Waves
Glass found on beaches along oceans, bays, rivers or large lakes that has been tumbled and smoothed by the waves, water and sand, creating smooth, frosted shards of glass.
The color of sea glass is determined by its original source. Most sea glass comes from bottles, but it can also come from jars, plates, windows, windshields, collect beach ceramics or sea pottery. The most common colors of sea glass are kelly green, brown, and clear. These colors come from bottles used by companies that sell beer, juices, and soft drinks. The clear or white glass comes from clear plates and glasses, windshields, windows, and assorted other sources.
Less common colors include jade, amber (from bottles for whiskey, medicine, spirits, and early bleach bottles), golden amber or "amberina" (mostly used for spirit bottles), lime green (from soda bottles during the 1960s), forest green, and ice- or soft blue (from soda bottles, medicine bottles, ink bottles, and fruit jars from the late 19th and early 20th centuries, windows, and windshields). These colors are found about once for every 25 to 100 pieces of sea glass found.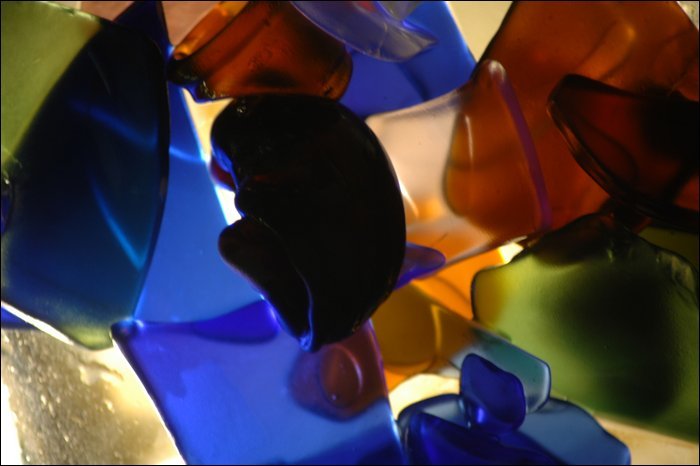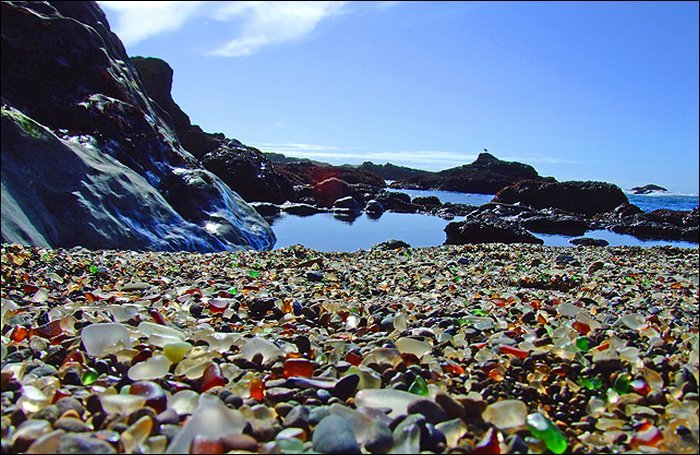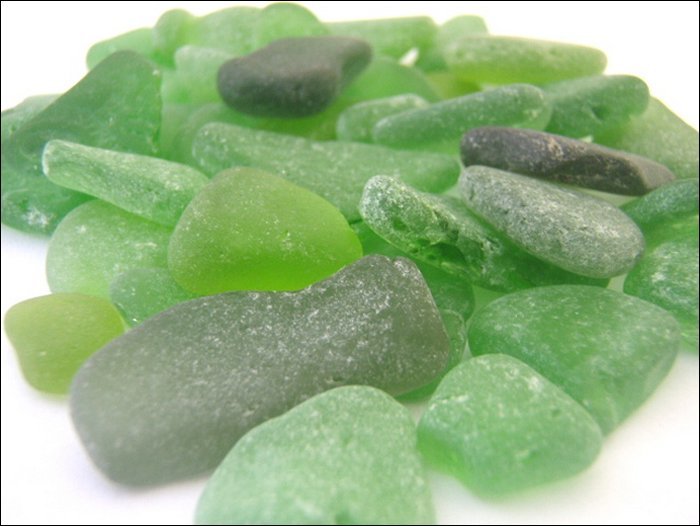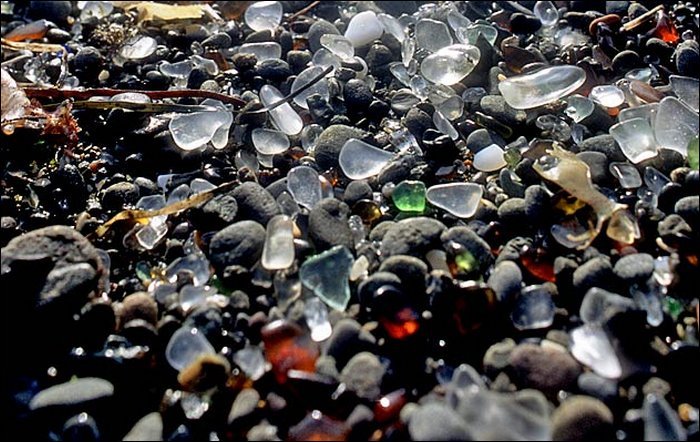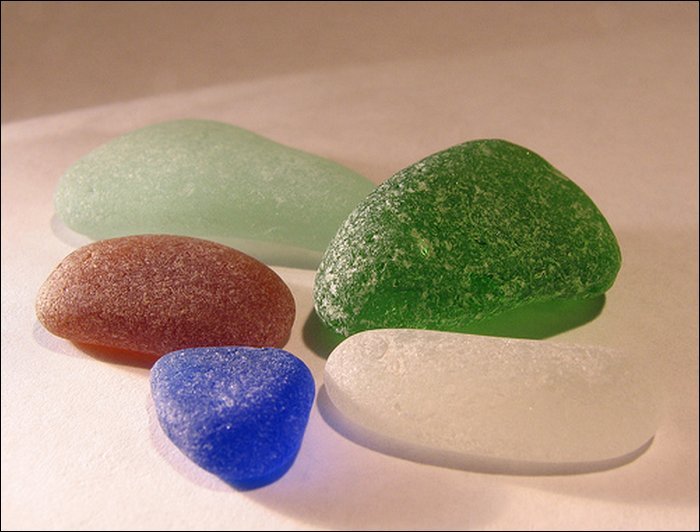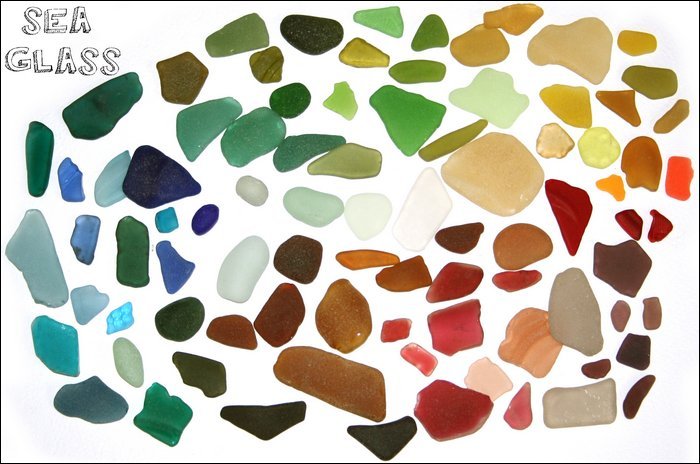 Uncommon colors of sea glass include green, which comes primarily from early to mid-1900s Coca-Cola, Dr Pepper, and RC Cola bottles, as well as beer bottles. Soft green colors could come from bottles that were used for ink, fruit, and baking soda. These colors are found once in every 50 to 100 pieces. Purple sea glass is very uncommon, as is citron, opaque white (from milk glass), cobalt and cornflower blue (from early Milk of Magnesia bottles, poison bottles, artwork, and Bromo-Seltzer and Vicks VapoRub containers), and aqua (from Ball Mason jars and 19th century glass bottles). These colors are found once for every 200 to 1,000 pieces found.
Extremely rare colors include gray, pink (often from Great Depression era plates), teal (often from Mateus wine bottles), black (older, very dark olive green glass), yellow (often from 1930s Vaseline containers), turquoise (from tableware and art glass), red (often from car tail lights, dinnerware or from nautical lights, it is found once in about every 5,000 pieces), and orange (the least common type of sea glass, found once in about 10,000 pieces). These colors are found once for every 1,000 to 10,000 pieces collected. Some shards of black glass are quite old, originating from thick eighteenth-century gin, beer and wine bottles. Along the East Coast of Australia, particularly on beaches close to cities, sea glass can be common.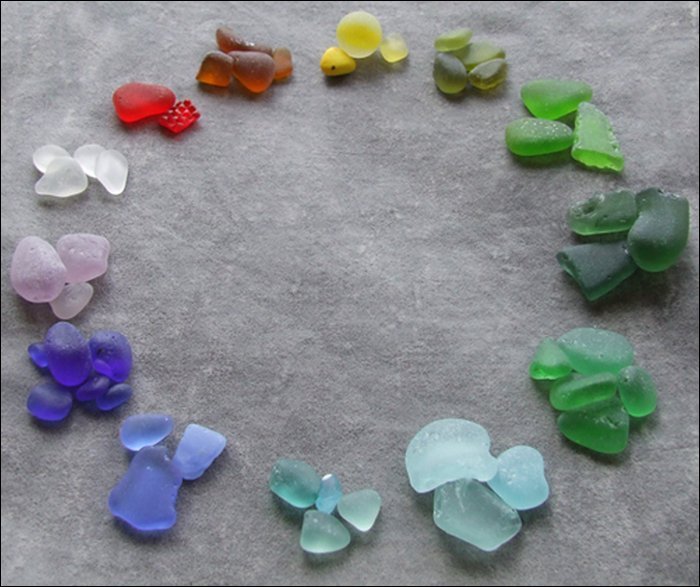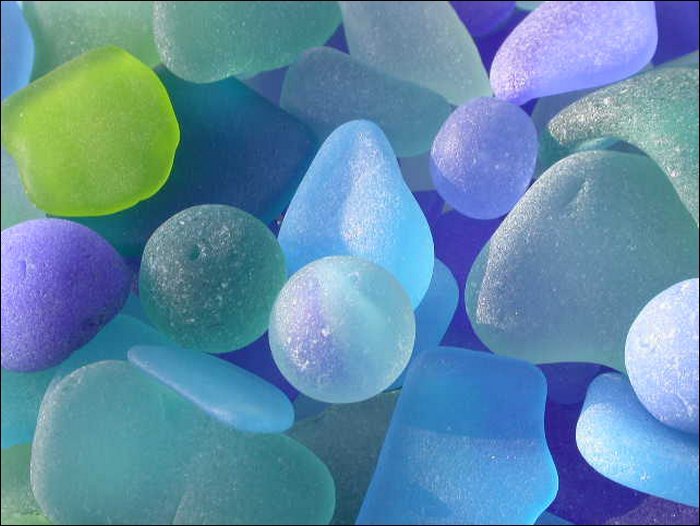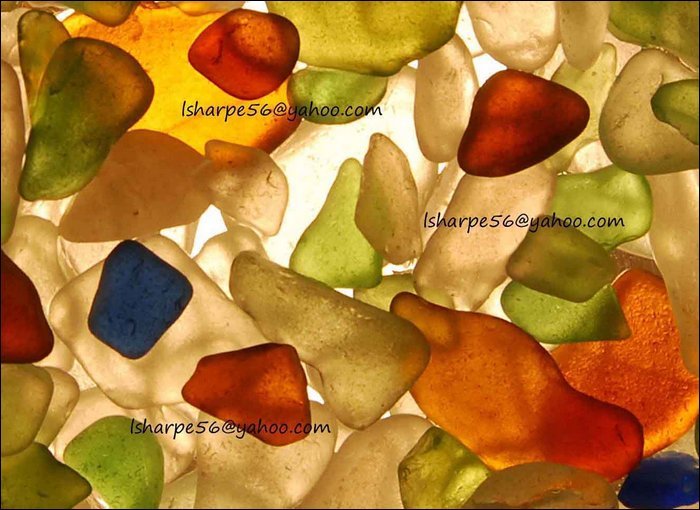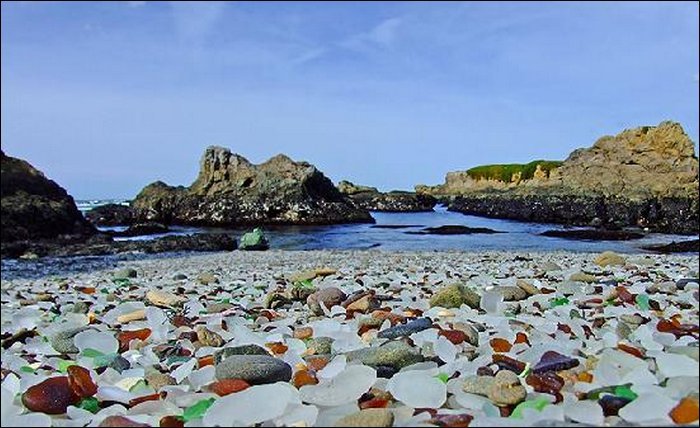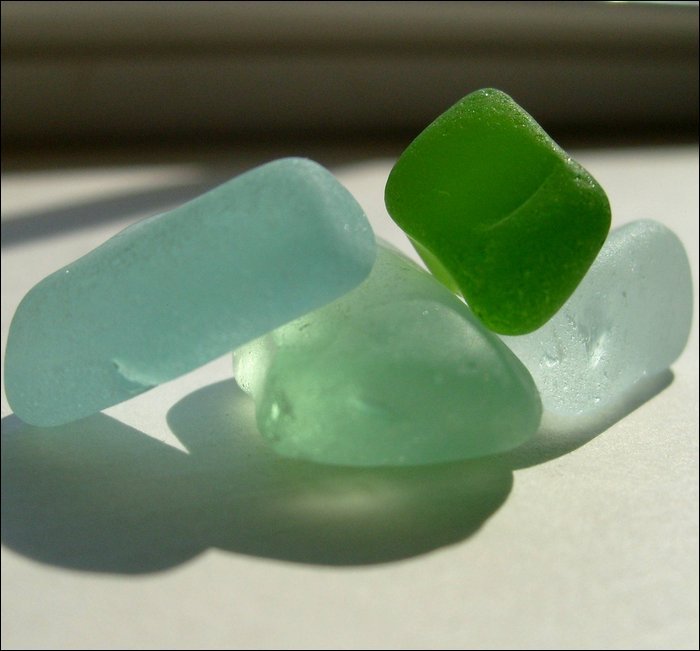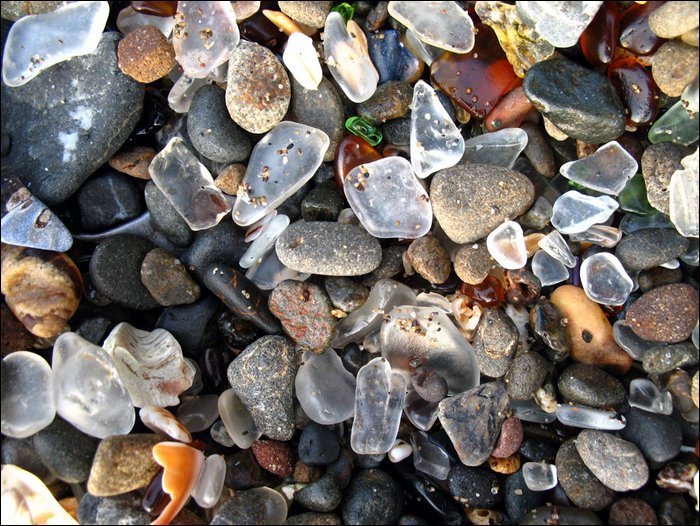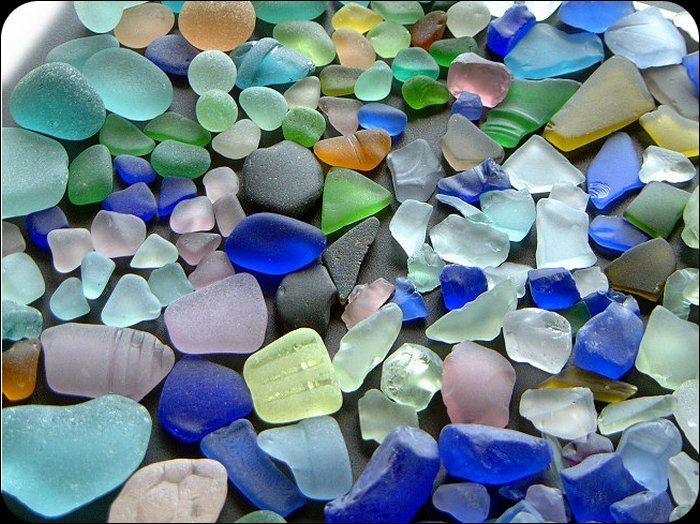 Like collecting shells, fossils, or stones, combing shorelines for sea glass is a hobby many beach-goers and beachcombers enjoy. Hobbyists often fill decorative jars with their collections and take great pleasure in tracing a shard's provenance. Artisans craft beautiful, much sought-after pieces of jewelry, stained glass and other decorative pieces from sea glass.
Sea glass can be found all over the world, but the beaches of the northeast United States, California, northwest England, Mexico, Hawaii, Puerto Rico, Nova Scotia, Italy and southern Spain are famous for their bounty of sea glass, bottles, bottle lips and stoppers, art glass, marbles, and pottery shards. The best times to look are during spring tides and perigean and proxigean tides, and during the first low tide after a storm.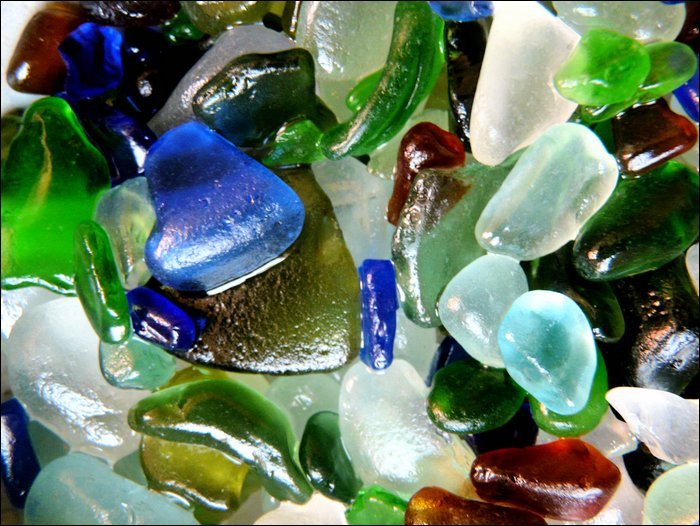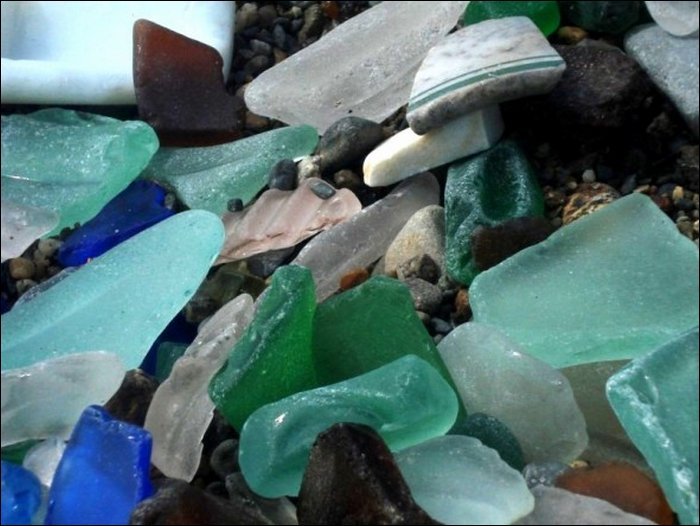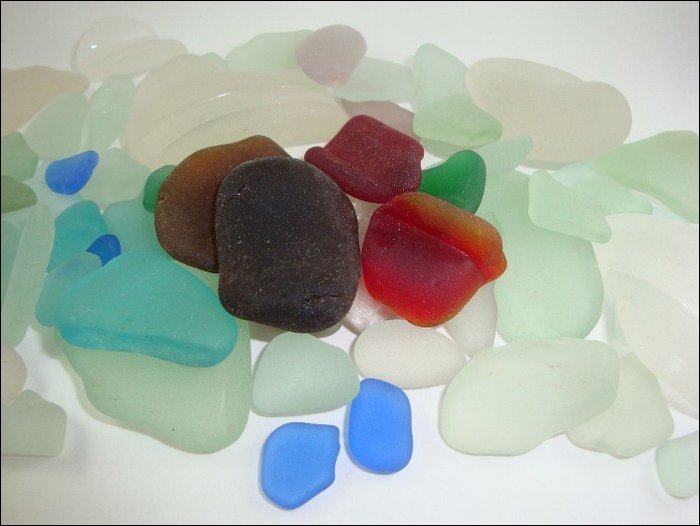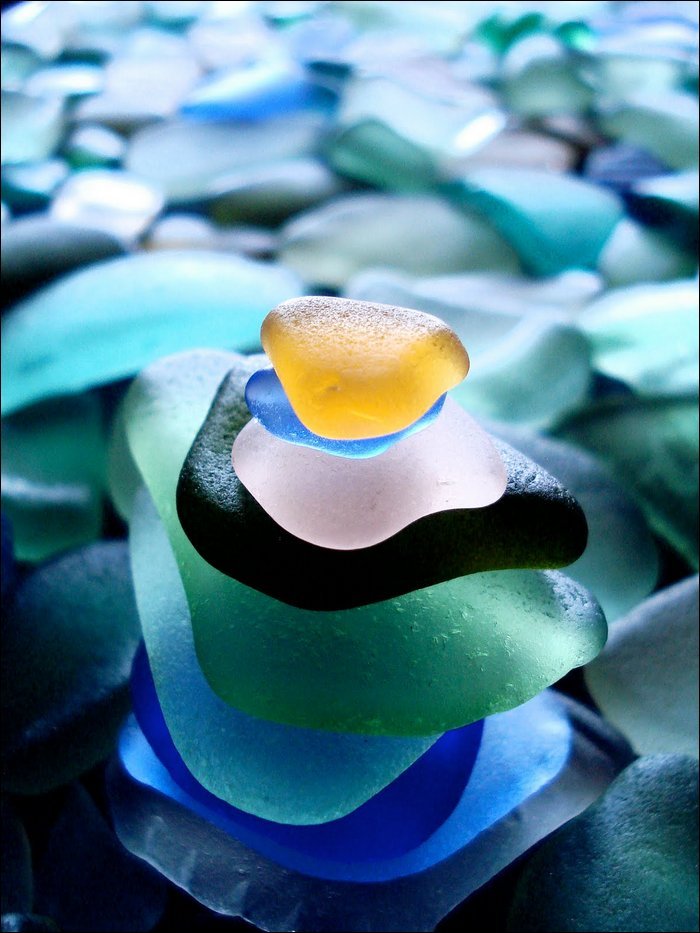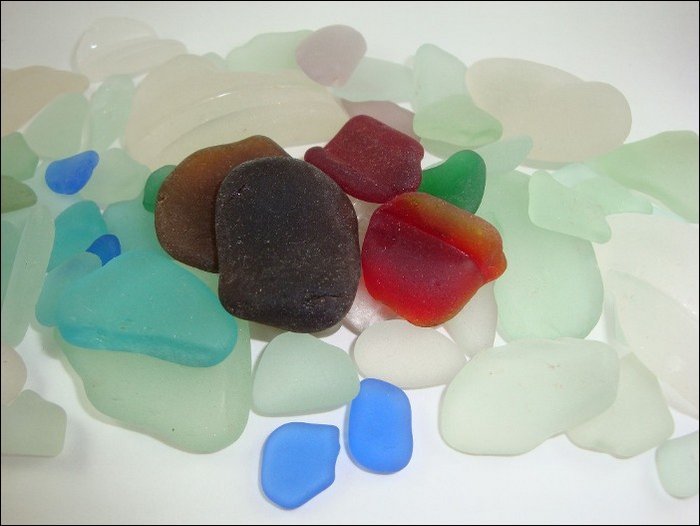 Beach glass, as it is called on inland waterways such as Chesapeake Bay and the Great Lakes, is similar to sea glass, but may be less weathered in the absence of wave rigor and oceanic saline content. Beach glass from inland regions often has prominently embossed designs or letters on it, which can make tracing its origin less challenging. The outer surface of beach glass shards may also be texturally varied, with one side frosty and the other shiny. This is most likely because they are pieces broken off from larger glass objects which are themselves still embedded in mud, silt or clay, slowly being exposed by wave action and erosion.
Red sea glass is the rarest colour. It is so rare because it was only made for a small period in time, and gold was one of its ingredients. Sea glass is getting less common because fewer things are made out of glass today. Many years ago most containers were made of glass – medicine, poison, drinks, water. Sea glass is most often found at the top of the shoreline. Before keeping, make sure that the edges are soft and well-worn, if not, they're not actually sea glass, just glass.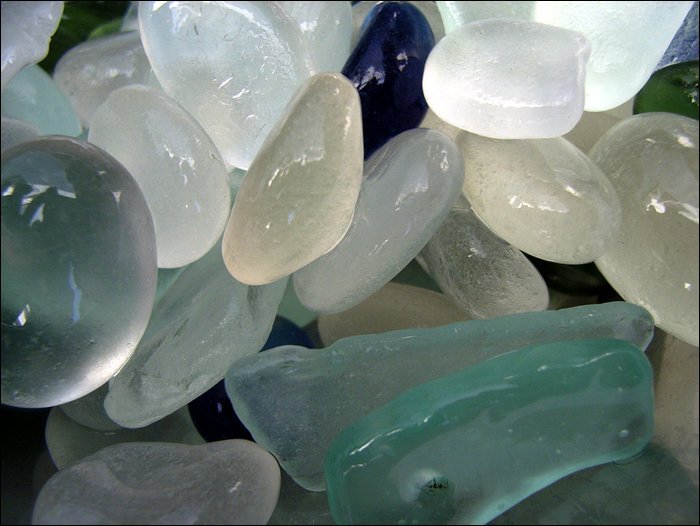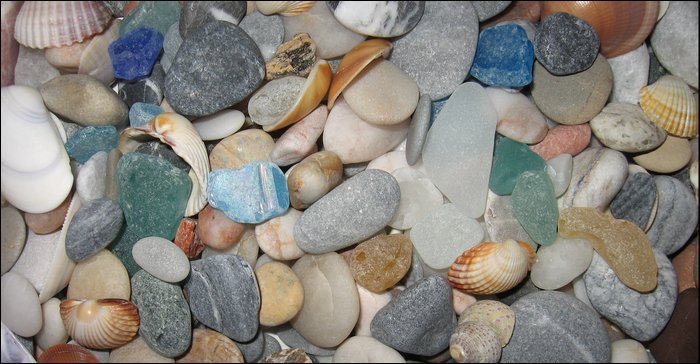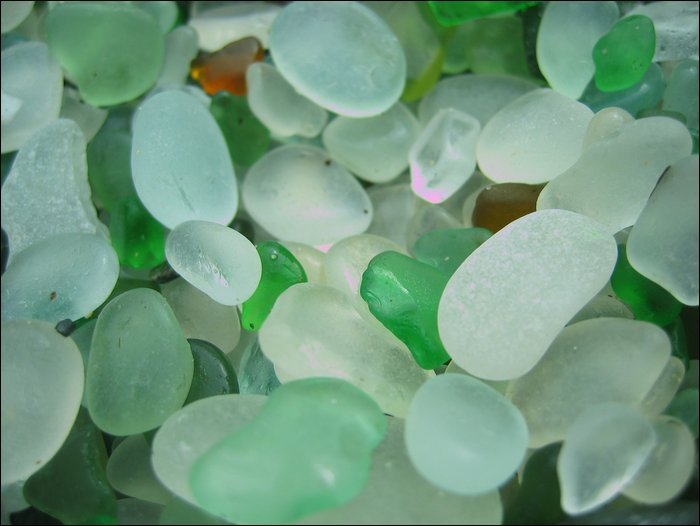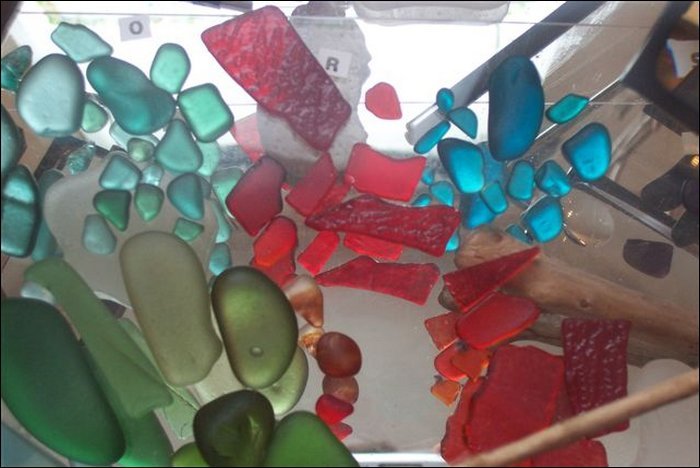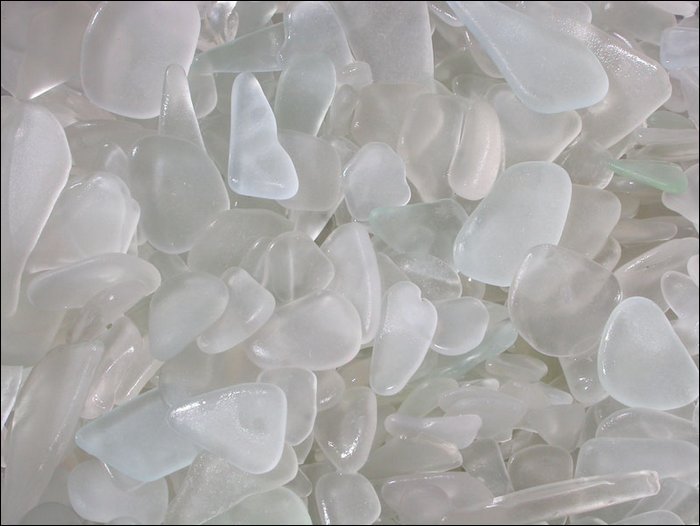 Authentic sea and beach glass is becoming harder and harder to find for a variety of reasons: there are more people searching for it; glass items have been replaced by plastics; and littering is discouraged.Some artisans and crafters have taken to tumbling less-than-stellar pieces of sea glass shards to create what is called "twice-tossed" glass. Others rely on artificial sea glass, produced to meet craft demand at a cheaper price and in a wider range of colors, which is also often processed using a rock tumbler. Such glass is chunkier than most true sea glass, lacks its romantic provenance, and differs in many technical ways, e.g. long-term exposure to water conditions creates an etched surface on the glass that cannot be duplicated artificially).For many professional sea glass collectors, authors, artisans, and retailers, the main issue is honesty regarding the source of glass. While some prefer the term "twice tossed" or "craft glass" for inauthentic or artificial products, this usage is by no means universal.