Why Indo-Afghan deal makes Pakistan nervous
Last updated on: October 20, 2011 15:44 IST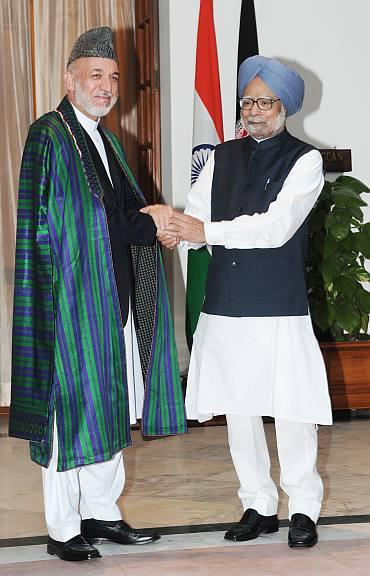 Will the Indo-Afghan strategic agreement project India's soft power and provide it strategic depth or is it a high-risk gamble that will come to haunt us in the future? Sheela Bhatt finds out
"It is not worth it if you don't have any strategic agreement in country where you are spending $2 billion (about Rs 9,800 crore)," said a senior officer in government dealing with Afghanistan and Pakistan when asked about which factors necessitated the Indo-Afghan Strategic Partnership agreement. He said, "Look around India. Has India invested so much and so well in any other country? In which other country is India spending so much money?"
Prime Minister Manmohan Singh and President Hamid Karzai signed an agreement that was in making since the last one year on October 4, says the officer in the Prime Minister's Office.
Dr Singh himself had said on eve of signing the agreement, "based on intensive consultations and deliberations, we have finalised an agreement on a strategic partnership."
The Indian officer added, "It was not done in hurry. We were working on it. There was nothing secret about it because what we wanted to say we said it in the May, 2011 joint declaration in Kabul." He insisted that the strategic partnership agreement is just collection of all that India and Afghanistan are doing together.
It was argued that the agreement was necessary from the Afghan side because the vulnerable nation is in process of taking over some of the duties of the North Atlantic Treaty Organisation forces after they leave the country in 2014. Karzai needs to train his security officials. Obviously, it's not easy to go for such a legitimate but controversial agreement because of India and Pakistan's rivalry and the high stakes of many nations in and around Afghanistan.
================================================
.

rediff.com/news/slide-show/slide-show-1-analysis-why-indo-afghan-deal-makes-pakistan-nervous/20111020.htm