Sex is the same everywhere, but attitudes toward it differ
Updated: 2011-12-01 07:40
By Karl Arney (China Daily)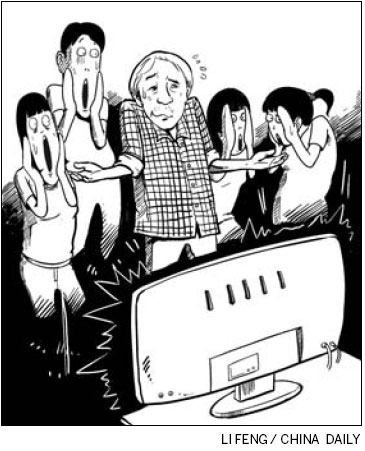 Halfway through my first year of teaching in Zhengzhou I showed my students a movie. I did this after they had finished their exams, choosing a film relating to the exam's topic. It would be a nice palette cleanser, a reward for all the hard work that preceded it, I thought.
The problem was the movie contained a sex scene. There was no nudity, just the sweaty faces of two characters in the act of making love. It was a minor scene in the movie that hadn't madeany impression on me, but that wasn't the case with my 19-year-old college students.
I heard gasps and looked up to face an unexpectedly awkward situation. There was an air of surprise and embarrassment throughout the room and one of the quieter students was staring at me with utter revulsion for exposing her to such a lewd act. The scene, of less than 10seconds, seemed to stretch for hours, for both the students and myself.
This was my first exposure to the differences between my US homeland's attitude toward sex in movies and the media generally and China's. From that point on, I frequently noticed other examples. Until just recently, these examples made China's stance on sex culture quite obvious, and this might be described as more traditional or conservative.
I figured when I first came here that pornography was illegal (it is). Even so, I was quite amused when I later stayed at a hostel in Shanghai and read the rules of conduct posted on the inside of my door.

Here, porn was viewed on a par with smoking in the rooms, carrying weapons and taking drugs. I understand that laws are laws, but pornography receiving equal billing to health and safety concerns tickled my funny bone regardless.
My understanding of this subject was further strengthened when I started using Chinese downloading websites. They acquire movies and TV shows with an impressive speed and have entertained me on many a bored evening.
But it wasn't until I watched these shows back home in the US that I realized the movies and shows had been edited. The violence and bad language were largely intact, but scenes involving nudity were often cut. These cuts occasionally made no difference to understanding the movie or TV show, but sometimes they resulted in a loss of plot details. This kind of fine-attention paid to preventing nudity from turning up in entertainment further convinced me that all sex culture here was forbidden.
Only more recently did I notice that, just like most countries, China has a flip side to this particular coin. Sex and nudity might be banned in movies, TV shows and elsewhere, but they do show up in areas I did not expect.
I began noticing this while passing various lingerie shops distributed throughout my neighborhood. It came to my attention that one in every four or five displays were advertisements for evening wear which left absolutely nothing to the imagination. SuddenlyAmerican culture seemed prudish in comparison, as publicly displaying see-through or crotchless underwear would never be allowed there.
Then, I started using the train on a weekly basis.
I had somehow failed to notice before that the areas surrounding both Zhengzhou and nearby cities' train stations are full of sex shops. Imagine my surprise when I saw seven consecutive stores openly showing off their wares to the public, with more prosthetic sex organs and related toys than you can shake a stick at.
For something so inescapable, sexuality creates many strange double standards among the world's countries and their populations. It's comforting to know this is as true in China as anywhere else.
China Daily
(China
Daily
12/01/2011 page20
=================================================