Rescuers rush to save survivors in wake of deadly Turkish quake
October 24, 2011 -- Updated 0152 GMT (0952 HKT)
At least 138 people are dead; 350 are injured
The USGS reports the quake had a magnitude of 7.2
Rescue teams struggle to reach some smaller villages
A 7.6 earthquake in Turkey killed more than 17,000 people in 1999
Istanbul, Turkey (CNN) -- Battling near-freezing temperatures and darkness, rescue workers and residents in eastern Turkey early Monday scoured the wreckage wrought by the country's most-powerful earthquake in more than a decade, hoping to find survivors.
Television pictures showed them using flashlights, shovels, heavy machinery and their hands to lift the debris, and clambering over collapsed buildings in search of quake victims.
At least 138 people were killed and 350 injured in Sunday's quake, which the U.S. Geological Survey reported had a magnitude of 7.2.
Roughly 20 aftershocks rattled the region, one of the nation's poorest. The largest had a magnitude of 6.0.
Ninety-three people were killed in Van, while 45 were killed in Ercis, said Turkish Prime Minister Recep Tayyip Erdogan, adding that those numbers are expected to rise.
Rescue teams were working through the night to save people who are still trapped in the rubble, he told reporters.
The prime minister said 55 buildings collapsed in Ercis on the north shore of Lake Van, while the Turkish Red Crescent had said earlier that some 25 apartment buildings and a student dormitory collapsed in the town.
Local rescuers took many wounded people out of the dormitory, the Red Crescent statement said, without saying exactly how many.
A health services building also collapsed, along with part of a hospital, CNN sister network CNN Turk reported. The injured were being treated in the hospital's garden.
"People are really scared," said CNN Turk reporter Nevsin Mengu. "The survivors are now trying to survive the cold weather."
She said many residents are not returning to their houses, but sleeping on rooftops or in the streets. It was not clear whether their homes were uninhabitable, or whether they were just too frightened. Electricity and natural gas were off in most of the city.
Speaking from Van, Mengu said the death toll is almost sure to rise as rescue teams have not yet reached some of the smaller villages. Trucks carrying medical aid and food were seen driving into Van.
Official rescue efforts were also under way in Ercis, said CNN Turk reporter Sevda Incesu, but residents were conducting efforts of their own. Ambulances were having trouble getting into town because the roads were littered with debris, she said.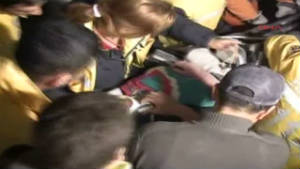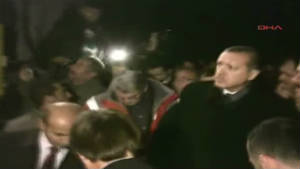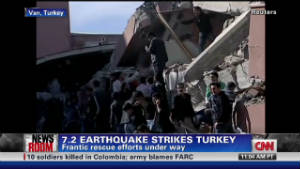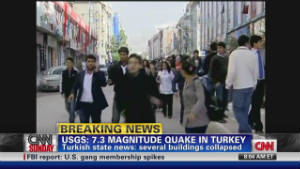 Video footage from the scene showed survivors freed from the rubble being loaded onto stretchers amid a crush of rescue workers and bystanders. Heavy equipment was used to sift through the wreckage as residents gathered around small fires.
The Red Crescent called for rescue workers, machinery and drinking water. A crisis center was set up by the country's Health Ministry in the Turkish capital, Ankara.
Health Minister Recep Akdag said an air ambulance and several helicopters would go to the quake zone.
Rescue teams of about 500 people were on the ground, according to the crisis center, and additional aid teams were dispatched from 29 surrounding cities. Medical helicopters were transporting the injured to hospitals in other provinces, the center said.
Two tent hospitals were being set up in Ercis, and two cargo planes were dispatched from the capital carrying medical teams and aid.
A seven-story building collapsed on Kazim Karabekir Street in the city of Van, and more buildings were reduced to rubble the village of Tabanli in Van province, the Anatolian news agency said. It was unknown how many people were trapped.
Prime Minister Erdogan and Health Minister Akdag arrived in the area Sunday, according to the Ministry of Health's crisis center.
Israel offered Turkey "any help it may require" after the earthquake, Defense Minister Ehud Barak's office said. Israel and Turkey, once close allies, saw a deterioration in relations in a dispute over an Israeli naval commando raid on the Gaza-bound ship Mavi Marmara, in which nine Turkish activists were killed.
Other nations and organizations offered condolences and assistance to Turkey.
"Our thoughts and prayers are with the brave men and women who are working to bring assistance to this stricken region," U.S. President Barack Obama said in a statement. "We stand shoulder to shoulder with our Turkish ally at this difficult time, and are ready to assist the Turkish authorities." U.S. Secretary of State Hillary Clinton issued a similar statement.
A spokesman for the Turkish Foreign Ministry said the country, while grateful for offers of aid, is prepared to handle the disaster on its own.
Turkey is "no stranger to having these seismic events," but Sunday's quake is considered major, CNN Meteorologist Reynolds Wolf reported.
A magnitude 7.6 earthquake in Izmit, Turkey, killed more than 17,000 people in 1999, according to the USGS. A magnitude 7.2 tremor in Duzce the same year killed 894 people, the USGS reported.
Sunday's major quake hit at 1:41 p.m. local time.
It took place about 12 miles from Van, the USGS said.
The USGS reported a depth of 4.5 miles, or 7.2 kilometers; the center in Turkey said the quake was about 3 miles, or 5 kilometers, deep.
CNN's Guy Azriel, Talia Kayali and Hande Atay contributed to this report.
======================================================
edition.cnn.com/2011/10/23/world/europe/turkey-earthquake/?hpt=wo_c2